Ligang Xu
---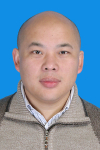 PERSONAL DETAILS
NAME Ligang Xu
E-MAIL lgxu@niglas.ac.cn
PHONE (86)25 8688 2105
OFFICE 73 East Beijing Road, Nanjing, China
Education
Ph.D. in Soil Science, Institute of Soil Science, Chinese Academy of Sciences, 2004;
B.S. in the Department of Environmental Science, Jilin University, 1999.
Employment
Post doctor, University of Calgary, Canada, 2007-2009;
Professor, Nanjing Institute of Geography and Limnology, Chinese Academy Sciences, 2014-present.
RESEARCH INTEREST
Soil hydrology
SELECTED PUBLICATION
Ligang Xu ,Manli Zhu , Bin He Xiaolong Wang. Analysis of Water Balance in Poyang Lake Basin and Its Response to Climate Change, Journal of Coastal Research, 2014, 68(1): 7-14.